Back to Gas Grill Help
Incorrect Burner Issue
From what store did you purchase your grill?
You must have purchased your grill from Mills Fleet Farm to be effected by this burner issue.
What is the model number of your grill?
The issue with the burner only applies to model number 463720108 with serial numbers from 000001 to 000402. No other grill model is affected.
Where do I find the model and serial number on my grill?
The model number and the serial number are behind the grill on a white sticker. The red circle indicates the location of the model number and the 6 digit numerical serial number. Please record all 6 digits.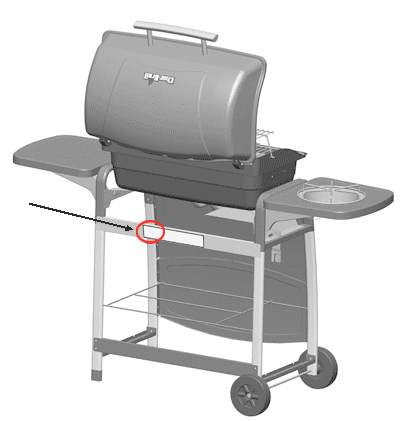 Where were the grills sold?
The grills were sold only at Mills Fleet Farm stores in the following states: Iowa, North Dakota, Minnesota and Wisconsin.
What do I have to do to order the correct burner?
For faster service, please call our Grill Service Center at 1-866-671-7988, Monday - Friday 8:00am - 5:00pm Eastern Time and talk with one of Grill Service Experts in order to receive a new burner.
If I have been operating my grill with the incorrect burner is the grill damaged?
Most likely not. However, check under the grill to see if there is any evidence of scorched or melted parts. If so, contact our Warranty Center for replacements under the scope of this recall.